Because I know I am.
I stumbled across this amazing blog community that has tons of awesome blogs linking up to it and I just had to share with everyone. Its called For The Love Of Blogs and its all about promoting your blogs and helping bloggers find other awesome blogs. So if you get a chance please go check it out! I guarantee you won't be disappointed.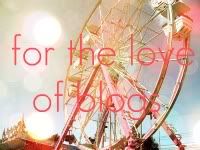 It has everything!
Mommy Blogs
Daddy Blogs
Fashion and Photography blogs
Crafts and Foodie blogs
And many more.
I was so happy when I stumbled upon this community because there is just so much support there and love. Not to mention the free promotion, that's wonderful too!
I really hope that you all find this blog helpful because I sure have. I have met some wonderful bloggers there that I am proud to call friends.
Take care and have a beautiful day!