Follow Me Back Tuesday
Want More Followers? You have just found the best blog hop, dedicated to helping others gain new/more followers!

Follow Me Back Tuesday is another day of the week that you can gain more followers and find other great blogs to follow on a weekly basis.
Follow Me Back Tuesday is hosted by Survey Junkie, Little Yaya's, Review Retreat and Boobies, Babies & A Blog...
It's a great way to start off your week and gain new followers all while discovering interesting an fun blogs!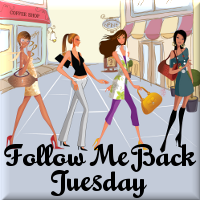 The linky for Follow Me Back Tuesday is up. Feel free to add your blog link and join in. All of the hostesses follow back. Just please leave a comment on each hostess Follow Me Back Tuesday Blog post letting them know you are a new follower, so they know who to follow back and where.

I hope to see you there!