Not sure what this 'Attachment Parenting' thing is?
Before I gave birth to my baby girl I had never heard of Attachment Parenting. I just knew, after her birth, that the way I wanted to raise her, the way that felt natural and 'right' was not the way others were telling me to raise her. I think one day I googled 'holding your baby' or something similar and came upon a series of AP links.


A light went off, a smile came to my face. I thought, 'I am not alone. I am not wrong. There are others that think and feel as I do.' It was a big moment for me, seeing the way I felt coming out of the mouths of others.
Here are the 8 Principles of Attachment Parenting, as listed from API (Attachment Parenting International) click on them for the full explanation: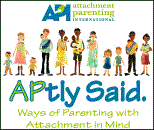 This is a very good link to the Attachment Parenting International Blog; API Speaks, which explains a lot more and includes informative links to articles/blogs by parents and experts alike that pratice and/or encourage APing.
Anyone else have a good link I should be posting here that explains the dynamics of APing? Send me a message on my profile (or just post it here, if you would rather) and I will put it up here!