Drama Girl is about to have her 18th birthday party.  I thought it would be fun to create a little slideshow of pictures of her to show at the party.  Also, apparently, I want to torture myself with sentimentality.
Here she is cuddling with a teddy bear I had made for her.  You can barely see it in the picture but it's right next to her face.  She named him Rainbow Flowers and he's gone on a lot of adventures with her.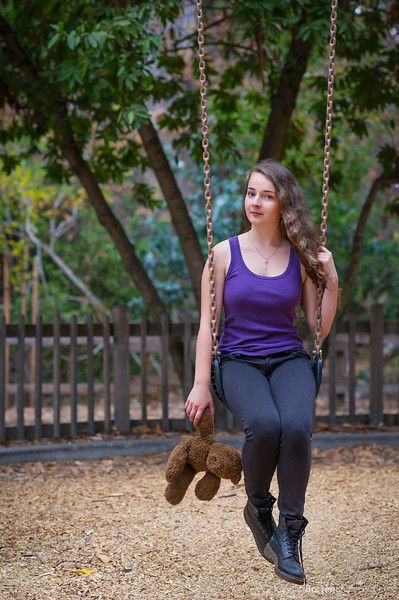 And there they are again, that little girl and her bear.  This picture is killing me.  Credit and thanks to Jeff Bartee Photography.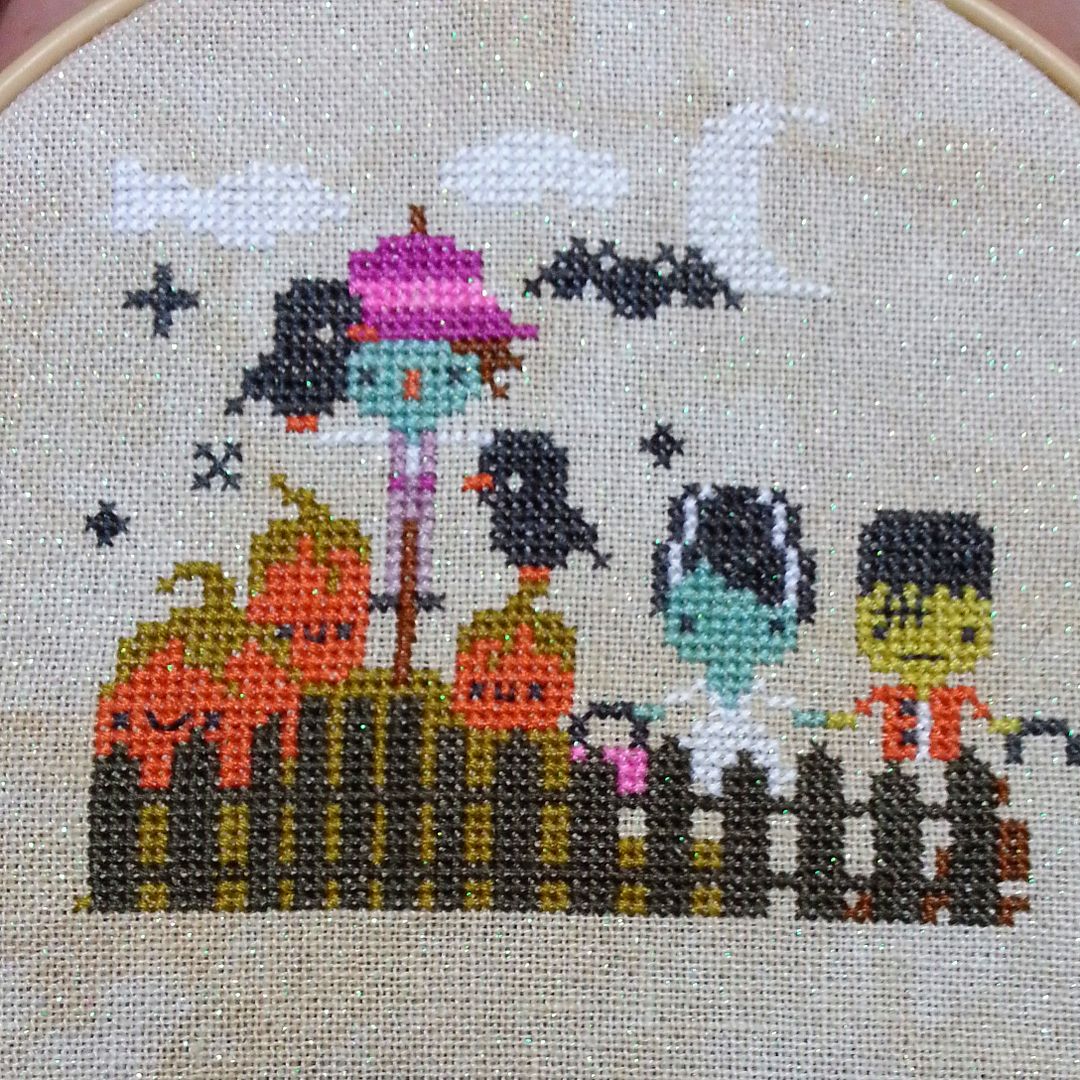 I've started another project.  Of course I have.  I'm all about starting more things than I can finish in a lifetime.
I've been seeing lots of pictures on Instagram of this project.  The pattern is by
Frosted Pumpkin Stitchery
and is coming out in four parts.  I have the first two and this is most of part 1 complete.  I think I might switch the white moon to yellow.  The beauty of Instagram is seeing how other people have changed the pattern.  It's fun to stitch along with others who are working on the same project.
While I stitch, I've been listening to a great audiobook;
The 100-Year-Old Man Who Climbed Out the Window and Disappeared
.  Here's a link to the kindle version:
It's a funny, somewhat dark story of an old man who escapes a nursing home and gets more than he bargains for.  Chapters about his present are interspersed with tales of his life and adventures during the 20th century.  Like Forrst Gump, he meets a lot of famous people and has a hand in changing the course of history.  I laughed out loud a number of times.  Good silly fun.
Everybody is getting ready to go back to school this month.  I used to love August vacations but they're just not possible any more.  I liked the old days when school always started after Labor Day.  Jungle Boy is going to middle college starting next week.  He's still enrolled in high school, but he takes classes instead at the local community college.  Such a great opportunity for him.  He'll be able to transfer all of his credits and possibly shave a year or more off of college.Wasabi Girl goes back to high school the week after that.
Drama Girl and I are all set to fly her out to college.  We spent two painful hours at the sheets and towel store trying to get her to decide on things like a comforter.  No luck.  There were too many choices.  I thought something like pillows would be easier - good grief!  She actually laid down on the floor to test different types.  Then we picked the kind of towel she wanted - but it took her
forever
to pick the color.  Why was it all so hard?  At least she has a new quilt to start the school year.  If she wants a comforter as well, there is time to ship it to her before it gets cold there.
How adorable is this?  The fifth in the series of free advent animal patterns from
Brookes Books Publishing.
I think I'm going to finish each of these into an ornament, and rig up some kind of garland to display them all.  Since the patterns are coming out once a month, I still have plenty of time to figure it out.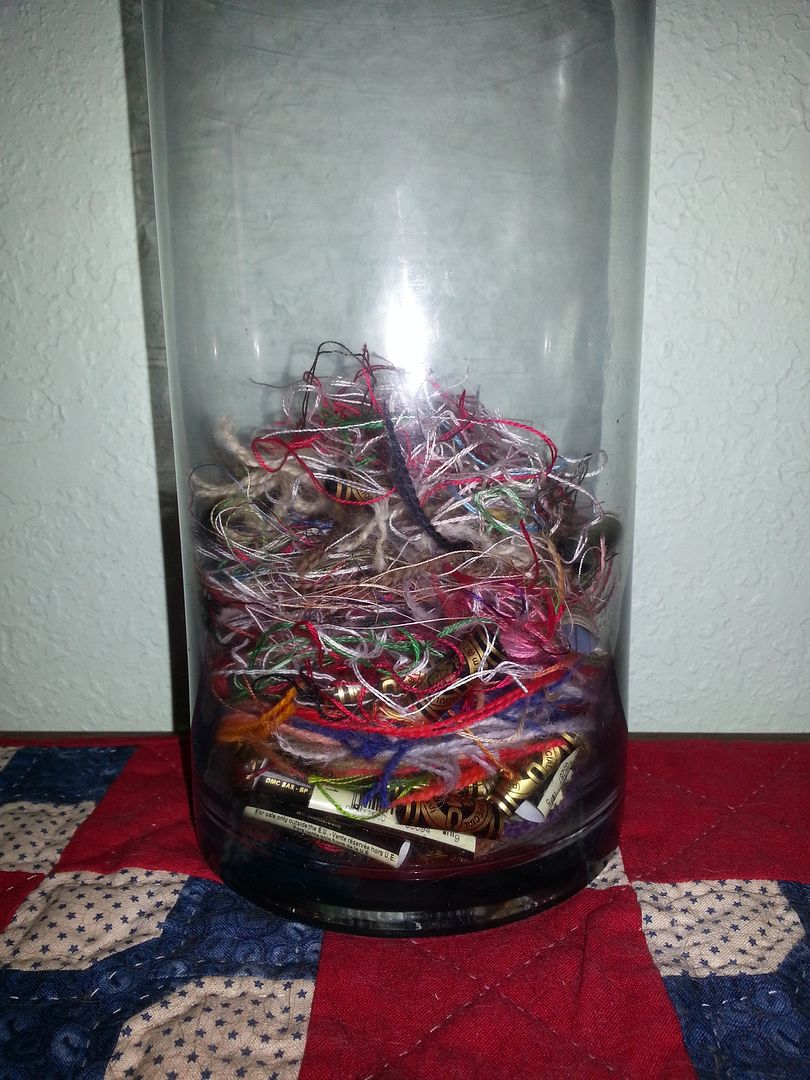 And here is my jar of 2014 scraps to date.  It never looks like much, but it's a big wide jar and it represents a lot of stitching hours.  I'm posting this as part of Daffycat's "TUSAL" (totally useless stitchalong).
I've become an instagram addict.  So many wonderful creative photos from all over the world.  Of course this has led me to new projects I want to start.  There are just never enough hours in the day.  You can find me on instagram at http://instagram.com/threeundertwo. 
Drama Girl got her class schedule and textbook list.  It includes this book,
"Buffy and the Heroine's Journey: Vampire Slayer as Feminine Chosen One"
: 
She can never accuse me of not adequately preparing her for her higher education.  Also?  I really want to go to college with her.  But I take consolation in the fact that being a grownup means I never have to take calculus again.