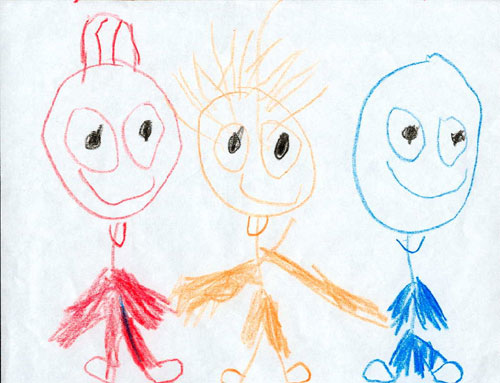 I spoke to a fellow mother today (at your brother's drama class) about the prospect of having three children. My plea was simple: Does the 3rd child push you over the edge? Her answer was simply and awkwardly laughed "Yes!" She then explained to me that her original idealistic plan was to have a brood of 4. I'm sure this plan included a dog, an organized schedule, and perfectly planned nutritious meals. Instead they've got the dog, drama, voice, soccer, baseball practice, and most meals are eaten in the car to or from the aforementioned activities. She said once little Ray (Bryson's favorite HVC playmate) was born, this mom decided that her baby-making factory would officially close its doors, and having a fourth child was completely out of the question. She admitted that part of the issue with three kids was that she was not able to control nearly as much of her life as she could with two. With three kids play-dates, practices, and rehearsals control you like a sad little puppet, flailing through your day.
I knew that I would one day have children, however I really never imagined that I'd attempt more then a pair. Your older brother was not in my plan at age 16, but he was the best thing to ever happen to me. I don't think you would be you, if I hadn't first been Ty's mom. He not only pushed me to be responsible and finish college on-time, but he is one of the reasons your father and I found each other (that's a whole other post). It went from being just me and Ty for 5 years, to meeting your dad, and finally the arrival of your brother Bryson, it was all an adjustment. I had to learn to balance 3 men in my life who were all vying for my attention. Thankfully Ty is great at entertaining himself and Bry.I just hope I can keep some of my sanity once you arrive.
Since I only seem be fertile in the spring and have timed all of my deliveries within a few weeks of Christmas, Bryson will not be old enough to attend kindergarten this coming fall. Which means you will get to spend almost
a full year at home with us. This wouldn't be an issue if Bryson wasn't still figuratively attached to my umbilical cord. He is the kid who clings to my leg at pre-school drop off, says he misses me even though we are together everyday, and pauses video games to let me know he loves me. I feel he is going to have a rude awakening
once you arrive.
I realize right now I do have it pretty good. At any moment we can be on the road, with little more then some juice boxes and hand-held games. Introducing baby bags, nursing breaks, and unexpected diaper changes will certainly shake up the current flow of all our lives, but I'm optimistic that adding you to the mix will only make life more fulfilling.