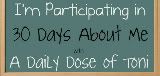 Thanks to
A Daily Dose of Toni
for this idea!  She is hosting a linky where she, myself, other bloggers and YOU will get to know a little more about us.  So click on over there (after you read my post, of course) and learn a little more about some terrific bloggers!
Day 1:  Favorite Song
Hmmm.  What is my favorite song?  I thought about this yesterday and I really can't really narrow it down to just one.  Can anyone?  There has been no one song that really stands out.  I have diverse tastes in music, as my ipod would show you. So, here are a few faves and why (I'm sure I'll think of more once I post this):
Journey-Don't Stop Believin'. (the REAL Journey, with Steve Perry, not with that new poser guy) was my first concert ever!  My friend, Nancy's brother drove us to the Rosemont Horizon to see the Babys open for Journey during my freshman year of high school.  Dig that hair, those clothes...
I Will Survive by Gloria Gaynor. This was (and is) THE anthem for any girl who was ever dumped by someone. Whenever played, women in attendance would and do sing loud and proud! I definitely remember them playing this when we went roller skating at the Axle.
Barry Manilow-Copacabana (or Cococabana as my daughter says). This actually isn't my very favorite Manilow song, but he is so identified with this song that I chose it to represent my Fanilow-ness. I've been a Barry fan for a long time, 30+ years. My best friend Vicki's sister Gina loved him in the mid-70s and I found myself drawn to the music when she played her albums on the hi-fi. I've remained a fan for all these years and have seen Barry (of course, we're on a first-name basis) many, many times. He puts on a fantastic show!
Bon Jovi-Wanted Dead or Alive. This is one of my all-time faves. And parts of this video were filmed at a concert I. WAS. AT! At the UIC Pavilion, downtown Chicago (I snuck down there with friends because my parents didn't want me going to that neighborhood), in the mid-80s. Fast forward to 2008 when my husband and I saw the group at the United Center (Daughtry opened for them...great ticket!). They still totally rocked! And has any man aged as well as Jon Bon Jovi? I think not! My mom even thought he was cute and awesome! The rest of the guys aren't too shabby, either.
Train-If It's Love. Currently, I'm lovin' Train. Love this song! Patrick Monahan, the lead singer? Sexy! He was even on an episode of CSI:NY (and sang Soul Sister, which my kids love). My husband, some neighbors and I saw Train at Ravinia, a very unique outdoor venue where some seats are under a pavilion and there is a huge lawn where people bring in their own food and drink. Totally sold out (the biggest crowd Ravinia had ever had) and one of the BEST concerts I've EVER been to.
So, that's just a few of my faves! Let me know what you think! What are your favorite songs?