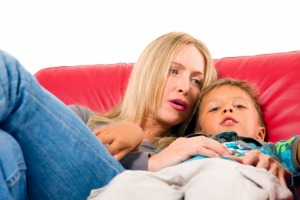 Last fall we decided to take my youngest son out of daycare so that he could stay at home with me during the day.  At first I was nervous because I wasn't sure how I was going to care for him during the day.  I am thankful that he has started learning how to play independently and can entertain himself for a few minutes.  During those first several weeks, I was so excited and wanted to continue teaching him the things that he was currently learning in daycare.  Things changed dramatically in August/September of 2013, I suddenly started feeling horrible.
Most people with chronic pain has had to find alternative ways to cope with the pain and to function somewhat normally each day.  Chronic pain is referred to as pain that is felt on a daily basis for 6 months or longer.  If you are a parent and suffer from chronic pain, you will learn quickly that you have to alter your lifestyle in order to take care of your children.  For example, I have a hard time picking up my son and holding him while standing up.  I have to explain to him that I can't hold him unless I am sitting down.  Sometimes he doesn't understand and sometimes he gets it.
As we all know parenting is very difficult without dealing with ailments, illnesses, or physical disabilities.  I started my blog to help parents and as I started communicating with other families on social media, I quickly discovered that there are alot of families affected by chronic pain.  I wanted to share a few tips to help those suffering from chronic pain realize that they are still a valuable part of the family and can still do things with their children.  Please visit Uplifting Families to continue reading my suggestions and tips to Be a Better Parent Even If You Are Suffering with Chronic Pain.