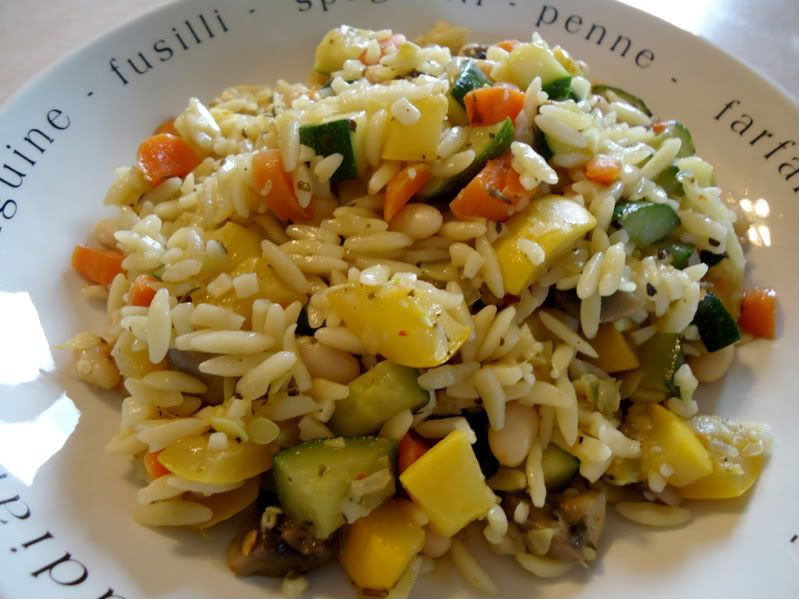 Orzo Vegetable Pilaf
This is one of my favorite go-to meals. You can have it on the table in 30 minutes and it is so good for you! My daughter and I love meatless meals...especially any kind of pasta/veggie combination!
1 - Cook 1 box orzo pasta as directed (we like to cook our pasta about 2 minutes less than what the package says...no mushy pasta!!). Drain, rinse well and set aside. This may be the only time you'll ever see me tell you to rinse your pasta!
2 - While pasta is cooking dice 1 zucchini, 1 yellow squash, 1 carrot, 1 small onion, 1 small package button mushrooms and 2-3 cloves garlic. Heat a couple of tablespoons of olive oil in a large skillet and cook the veggies to your desired tenderness. We like our veggies cooked well...no crunchy veggies in this house! Drain 1 can of cannellini beans (or any kind of white beans) and add to the vegetables. Turn heat down to low.
3 - Add the pasta to the veggies and mix well. Add about 1/4 - 1/2 cup of chicken broth and 2 big tablespoons of Smart Balance Butter Spread. Mix well and let hang out over low heat for about 5 - 10 minutes or until the broth is almost abosrbed but not dry. Add salt and pepper to taste, mix well and serve immediately with lots of freshly grated Parmesan Cheese!
Pasta - $1.19
Zuccini - $0.50 (farmers market)
Yellow Squash - $0.50 (farmers market)
Yellow Onion - $0.25 (farmers market)
Carrot - $0.20
Beans - $0.69
Mushrooms - $1.27
Garlic, cheese, broth and seasoning - $1.50 (appx)
Total: $5.60 for a huge skillet that fed my daughter and I for dinner, lunch for both of us the next day and dinner again for me! To save time chopping, I have also done this with pre-chopped frozen vegetable blends. I mix it up all the time...no two vegetable combinations are the same. This is also a great way to use leftover veggies!