The importance of acceptance and friendship.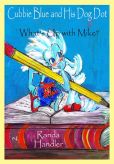 In Book 1, we discover how Cubbie, a special being from the magical land of Baltar and his very unusual dog Dot meet, and made friends with three human boys, Derek, Brian and Christopher.
This book opens with the boys making special food for Cubbie and learning more about the wonderful things which happen on Baltar.
Then a new family move in next door, they have a son called Mike and a dog called Spark. Mike is shy, and when Cubbie, Dot and the boys discover why, they decide to help him.
However, danger is still out there for Cubbie, Ayron soldiers have arrived to capture him, but luckily the little group and their new friend Mike save the day, with a little help from Dot!
I think, in this, the second book of the series, this talented author and illustrator has continued to convey important messages about friendship, understanding and acceptance of differences in a wonderful way using her very special characters.
Available on Kindle here http://www.amazon.com/Cubbie-Blue-His-Dog-ebook/dp/B00ANAYDF0/ref=p...
Barnes & Noble as a Nook book here  http://www.barnesandnoble.com/s/cubbie-blue-and-his-dog-dot-book-2-...