Come visit Mama's Blissful Bites (MBB) for more toddler and preschooler activities!
http://www.mamasblissfulbites.com/2013/09/27/discovering-power-magn...
There is something magical about magnets. How they draw to each other, how they fly in fast, the clang they make when two magnets connect. It makes the eyes of a child get bigger and bigger as they discover this magic. It's simple but worth every minute.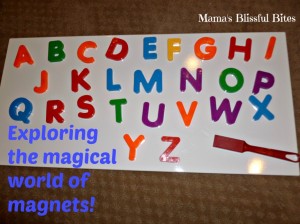 First, I started off with a magnetic board. (You can get the link for this $12 board, through the Classroom post.) Then I purchased magnetic alphabet letters.
I started off by asking the children what each letter was. The preschooler knows them all and was giving the toddler some extra needed help.
We wrote out the alphabet and sang the A, B, C's song.
They then started to create their own words and asking me what they said. The majority of the time, they didn't spell out real words.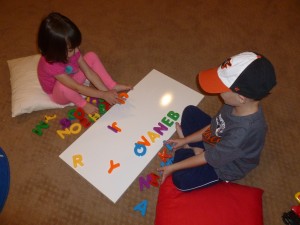 But they were learning anyways.
I then handed them more magic by placing the magnetic wand in their hands. (In my opinion, that thing is AWESOME!)
It gave the kids over an hour of fun.
Click HERE to read more!