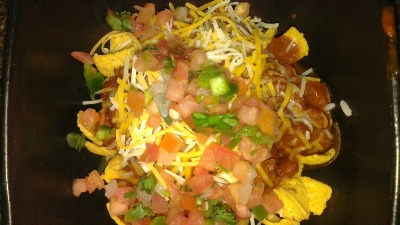 I love meals that are easy to fix so that I don't have to spend hours in the kitchen.  One Sunday afternoon, we were trying to figure out what we wanted to eat for lunch on the way home from church.  My husband suggested that we try something that he once had at a church function a long time ago that he enjoyed.  He said it was similar to Frito Pie but it had a few extra ingredients.  So we stopped by the grocery store on the way home and picked up the ingredients.
Disclosure:  This is a dish that we came up with one Sunday.  Please feel free to re-blog this recipe as long as you give me proper credit. 
Continue reading Frito Pie With Rice Recipe at Uplifting Families for the full recipe.