It was a Sunday morning. Early.
Paul and I laid in bed. It was quiet. Peaceful even.
I was just a couple months pregnant with Savannah, so whenever the opportunity presented itself to get a little extra sleep, I took advantage of it!
I had just closed my eyes when I heard the pitter patter of feet on our hardwood floors.
Mine and Paul's eyes locked - wondering if what we were hearing was actually happening.
Our baby crawled out of his crib for the very first time.
It was the beginning of not having our bed to ourselves.
Toes digging into backs, arms slapping faces, tossing and turning.
Hearing our baby breathing softly as he slept peacefully between Mommy and Daddy,
waking face to face to your very own creation..
...all made up for years of broken sleep.
Just recently one night has turned into two nights.. has turned into three and four nights in a row of Cole sleeping in his own bed.
Is this the end? I don't know if I'm ready for the end. 
It was just after 10:30 when Paul and I decided we were ready for bed.
We turned the TV off, fluffed the pillows and just as I closed my eyes,
I heard the hallway door open.
** Funny how things will sometimes end just as they begin.**
Cole hadn't slept with us in over  a week, and any time he got into bed with us -
it was always between 1 and 3 in the morning.
10:30 was completely out of the ordinary.
 Although, since him crawling into bed with us in the wee hours of the morning was less and less, calling anything of the sort would be anything but ordinary these days!
Cole crawled into our bed.
Blanket and bear in hand.
Same as always.
We snuggled. I was reminded why I loved it so much.
Feeling his breath on my face, pure love sleeping with my baby!
He softly whispered " I love you Mama."
----"I love you too baby."
When I was little, after being tucked into bed, my Mom would say " I love you."
My response was always " from here to the moon?"
She would say " from here to the moon, and back again."
I have passed this little piece of love to Cole. Assuming he is too little, I have only said..
" I love you, from here to to the moon."
****------- " I love you too baby. "
" From here to the moon Mama?"
((((( your here Mom! I can feel you, in this moment. Your here. )))))
" .. and back again my love."
I love you from here to the moon, and back again. I love you!
He got up out of bed, deciding he wanted to sleep in 
his bed
.
We walked hand in hand back to his room.
I tucked him in, as usual.
Kissed his forehead, knowing in my heart, our nights of sleeping together have officially come to a end.
These are the kind of moments I wish I could share with my Mom.
Like other daughters who have babies.
I envision her just dropping by without a phone call.
My house being a wreck, and me being ok with it 
because its just my Mom
.
 The kids wrapping their arms around her legs and her kissing their foreheads.
Within seconds of being there she's cleaning while I pour her coffee.
Later we find ourselves sitting on the couch just watching.
Watching my babies, her grandbabies, enjoy being little.
Her and I, being in a moment of happiness.
 Me saying 
" aren't they great?! " .. "Aren't they perfect?!" 
Small talk. Being in ' happy' as a Mommy, with my Mom!
Although, I am beginning to realize - that maybe she has been here all along.
~~~~~~
Other last weekend happenings. ~
Paul and I were able to have a night to ourselves.
These kind of nights are special. It brings us back to "us."
flashback: "Us" before babies! This was our first Easter together. Almost 9 years ago.
Not Mommy and Daddy.
Not Sheena the housewife or Paul the Police Officer.
Just him and I.. husband and wife.
These kind of nights I exchange my flip flops for heels, jeans for a dress.
I put makeup on and instead of smelling like baby lotion and chocolate milk, I smell like a big girl.
It brings us .. back to where we started.
When it was just "us!"
"Us" Now!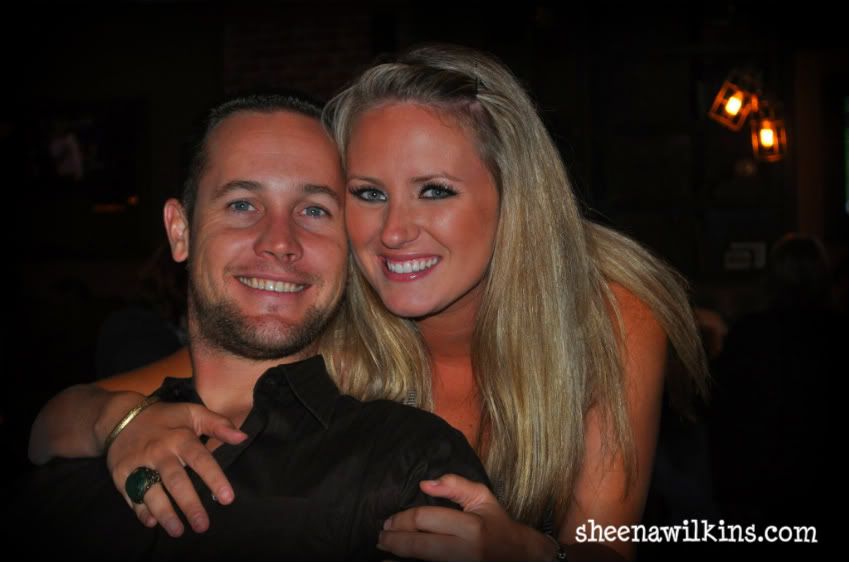 With a few other friends, we celebrated a very special someone turning 40.
It took place at a new restaurant that served delicious food, even yummier drinks.. and had a guitarist that rocked really cool guitar versions of lady gaga and katy perry songs.
These are just a few of the people that make our life pretty great.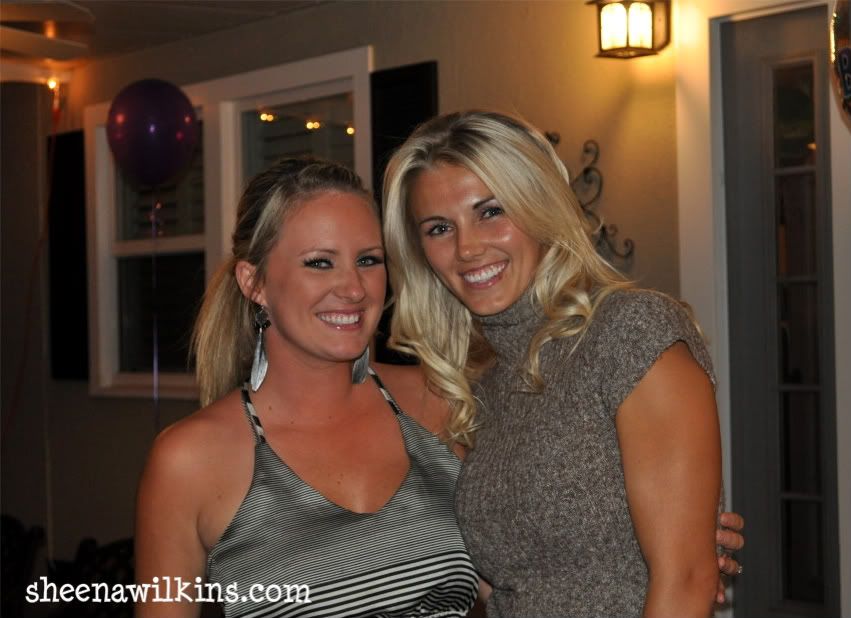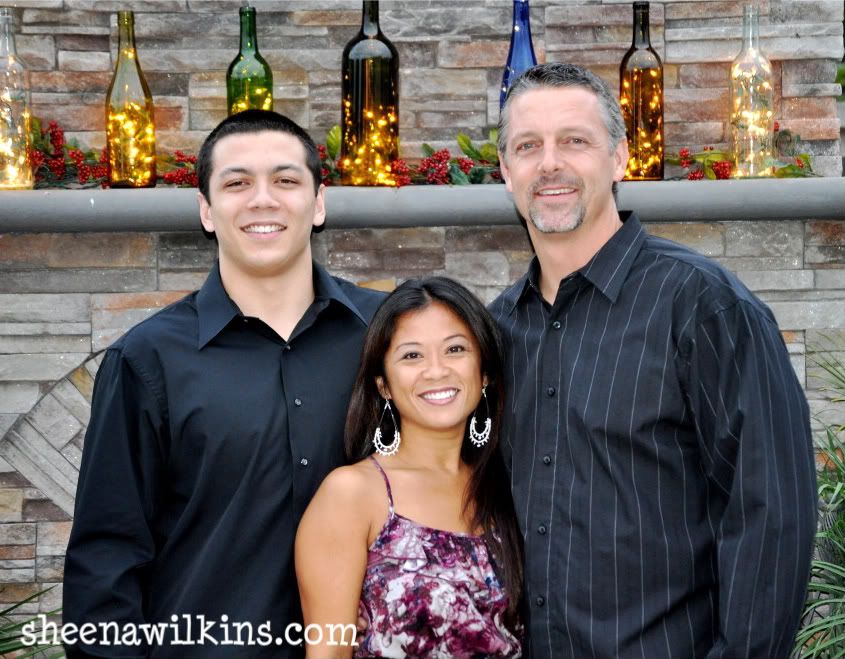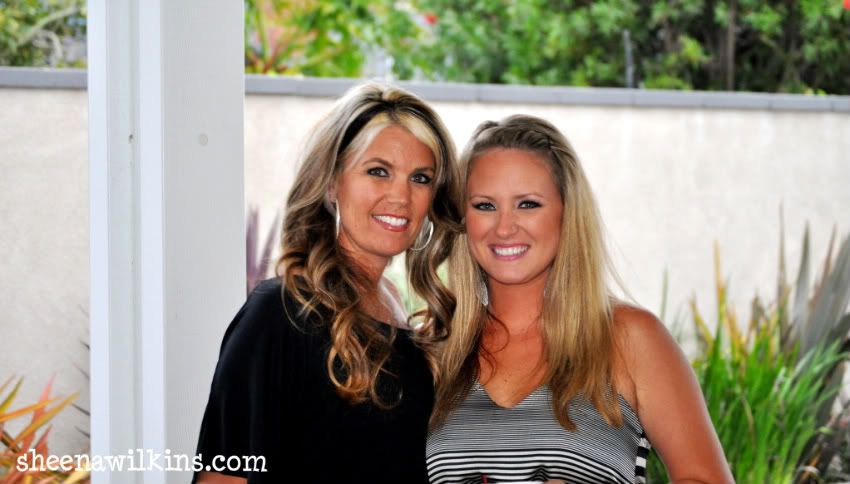 apparently I let the moment of pure adult bliss get the best of me!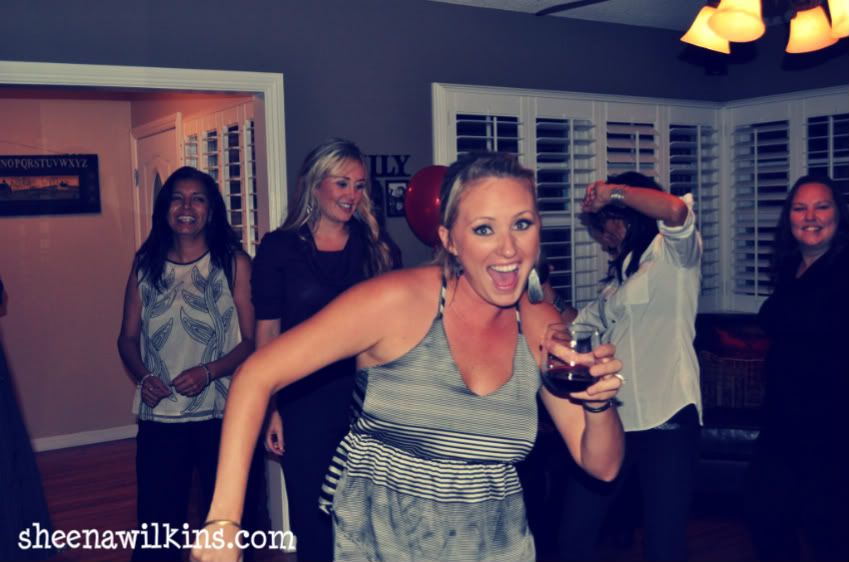 .. True friend here. Making sure I'm not alone in the bliss making!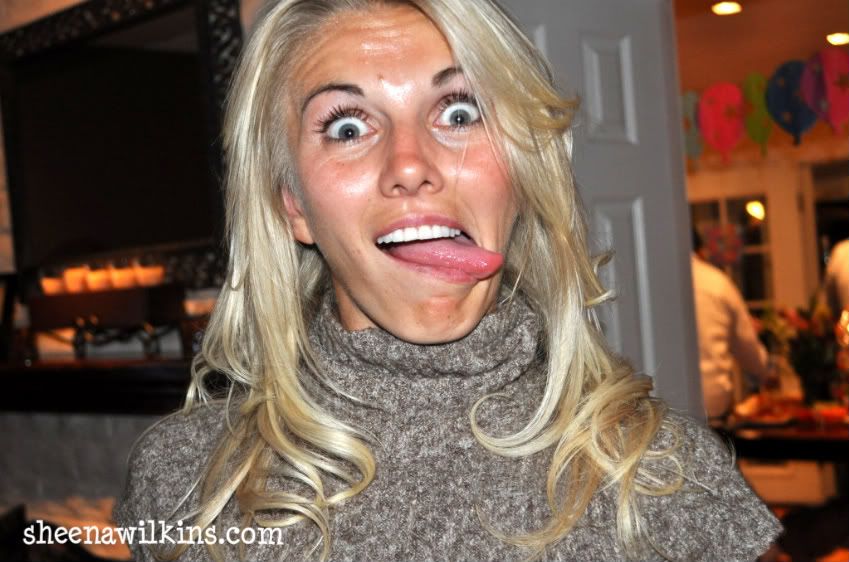 Happy Birthday Dear Friend!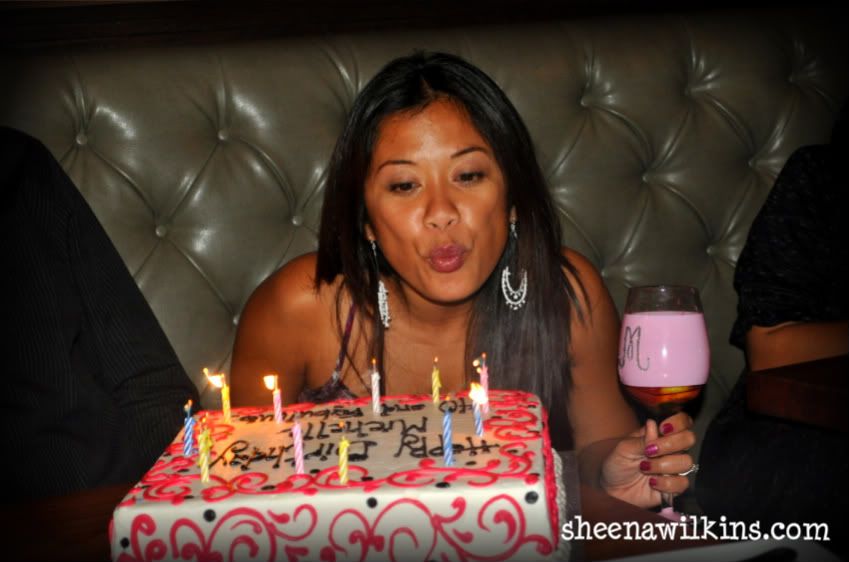 We wish you 40 more years of  'fabulous!! '
Sunday morning we slept in.
Woke to only eachother.
 Conversed over coffee with no babies asking for more milk or to play outside.
Although, I'll admit.. somewhere between talking about the night before and what we had in store for the day - we realized how quiet it was and that we missed those little humans who bring us the noise we sometimes complain about!
So we retrieved.
We retrieved and welcomed the " noise" back --happily!
~~~~~~~~
 Sunday evening not only brought our "noise" back.. but another birthday celebration!
My father-in-law's birthday that is!
I brought the china out that has been in my husband's family for over 100 years.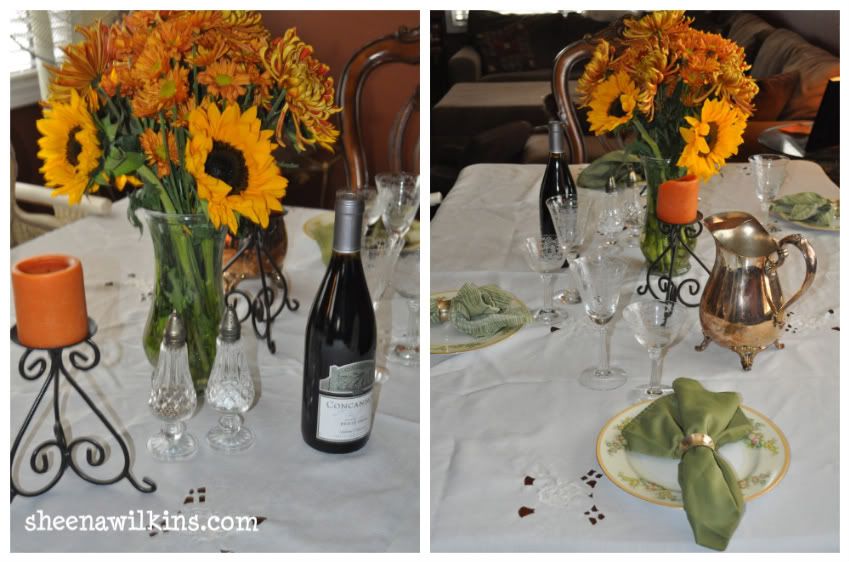 Tacos, wine, blue frosted cupcakes just like the ones his Mom use to make him as a young boy, and a little time outside before the sun left us for the day, were the ingredients for a pretty spectacular Sunday.. and such a great closing to a pretty awesome weekend.
Not to forget, Ollie girl was able to join us!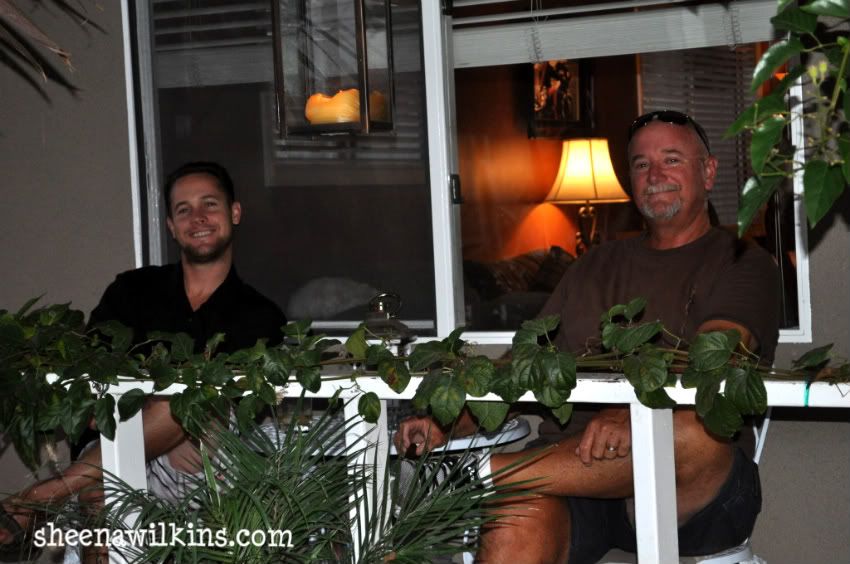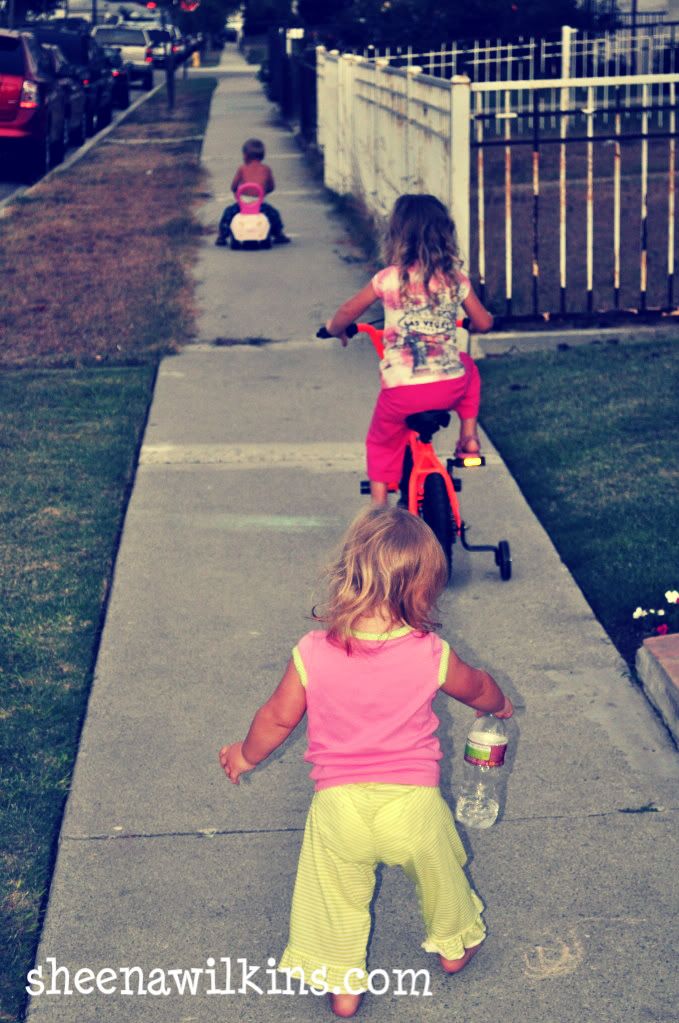 Walking back and forth between the kitchen and the table gave two little people plenty of opportunity to prematurely dig into the cupcakes that I'm sure were screaming to them " eat us! Eat us."
Instead of eating these tempting blue frosted cakes, they decided to just have a finger!
When I returned to the kitchen to see these two little people with blue frosting on their lips, I knew what was going on!
I asked " who touched the cupcakes."
They both pointed at one another.
I could only giggle!
We attempted a slumber party.. but when the dust settled and the movie was half way done, we found ourselves driving her back to Grandma and Papa's house because " she mishhed them!"
Maybe next time Ollie girl!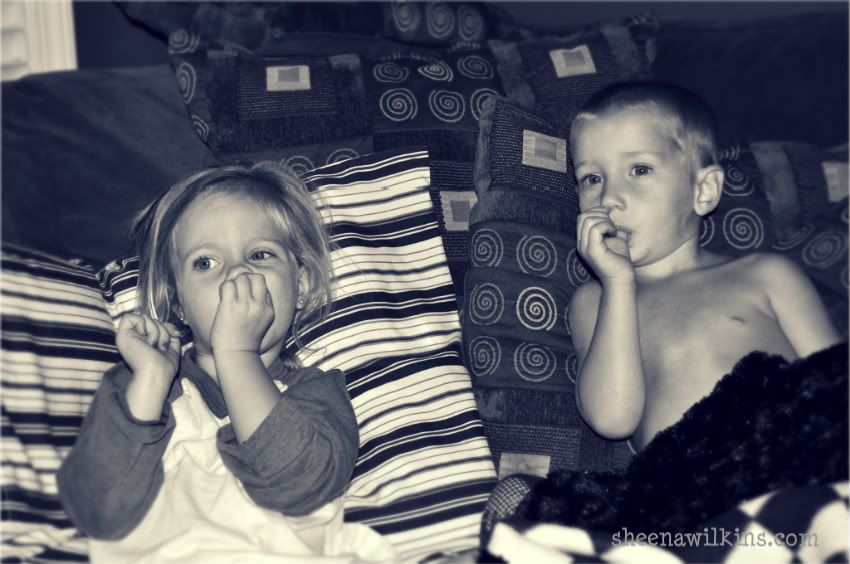 Happy Happy Birthday Dad! We love you =) 
~~~~~~~~~~
Fast forward a little to Wednesday, and look at what I caught passing from the kitchen to the office.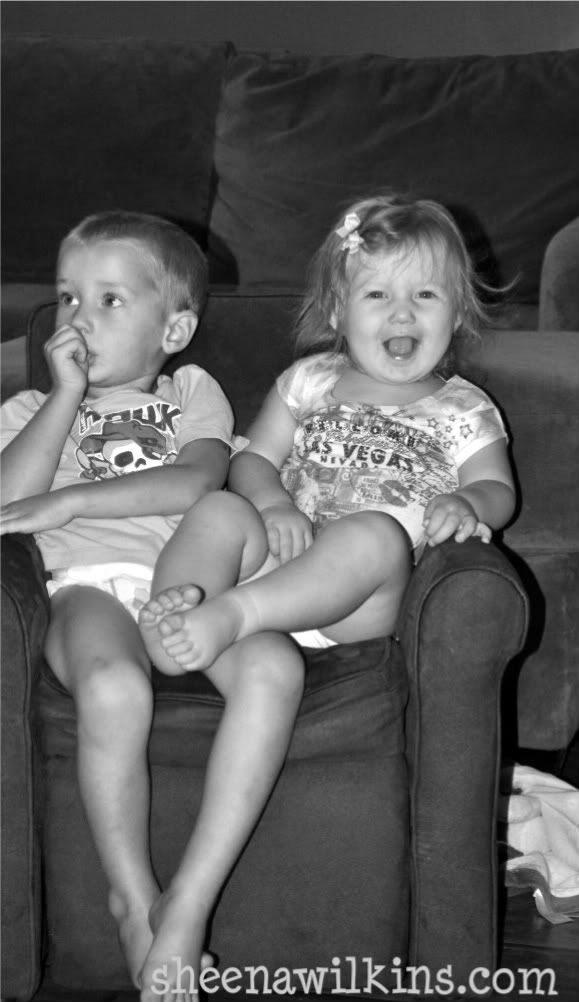 Another moment of .."  Mom!! Aren't they great!? "  I can hear her clearly! She simply says..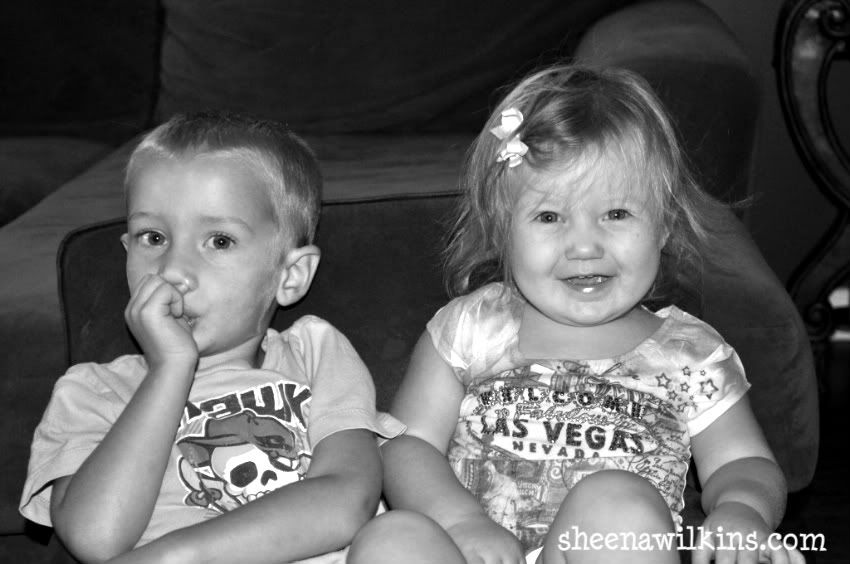 "
 Yes, they sure are!"
I love you. From here to the moon, and back again. I love you!