Growing Up Around Television
'The Boob Tube', 'The Idiot Box', 'The Telly'... all synonyms for the same thing.  Television.  I'll admit it, I love TV and so does my family.
I have many fond memories of growing up around the TV.  That doesn't mean that I sat glued to the television hour after hour.  I do however, remember watching The Flinstones at lunch when I was home from school.  Starsky and Hutch, Happy Days, Star Trek and Hogan's Heroes (can you tell I had older brothers) were some of the shows that we all watched after school or after dinner.
Television is a place where there is something for everyone.  Perhaps you are a fan of comedies or dramas.  Maybe you're the mystery type that enjoys trying to solve the crime before the investigators.  Movies, sitcoms, reality TV, news, science and the list goes on.  Without television, I'm sure many of would have missed out on some very fond memories growing up.  I know I would have.
We all watch television and we also enjoy it as a family.  We do however, also enjoy doing other things together like reading, playing games and sports.  Can you watch too much TV?  Absolutely!  Like everything else, moderation is the key.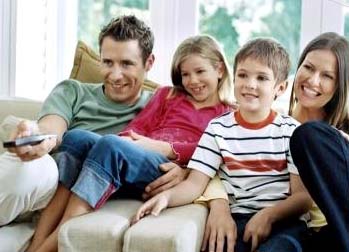 What are your thoughts on TV?