Jessica Smith,
social media powered digital influencer, Blogger & Marketing Strategist indicated an interest in decorating with Uppercase Living once she saw a picture of the Morning Glory graphics on kitchen cabinets. She thought that would be a great way to update the look of her cabinets. So, I decided to send her some of the Morning Glory graphics and some other designs to apply to her walls and cabinets. I new she had a young son, so I included her child's name in two different fonts and colors.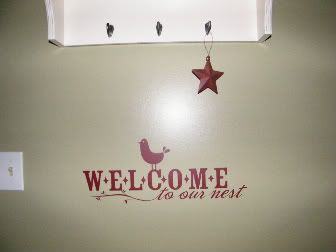 I
admit, I was
worried. W
hat if she didn't like it... what if something went wrong and she wrote a blog post about an awful experience with the products! That was the risk, but it's her blog - she can say what she th
inks - good or bad! So, I was a bit nervous, but luckily, she loved it!

Since Jessica is well known on Twitter, I sent her the "Welcome to our Nest" with bird. Looks like a cute twitter bird to me! See more pictures and find out about her experience with her home with Uppercase Living products on her blog - jessica
knows.com.

Jessica is a mentor and leader you'll want to follow and pay attention to everything she does. That's what I try to do. I would recommend her to anyone. She's a down-t0-earth person, believes in goin
g green and helping women improve their lives, families and be successful in business. Find her on Twitter at @jessicaknows
Jessica's Bio: Jessica Smith has successfully brought her 8 years of marketing and business development experience home with her, literally. She is Chief Mom Advisor and the woman behind the idea for MomForce.com, Chief Mom Officer for Wishpot.com, and works with big brands including Walmart and Ford. Jessica offers a personal glimpse into her life as a mom and virtual executive at JessicaKnows.com. Her specialties include creating buzz and community for companies that target moms through new media. She has also been recently tapped as one of the 50 Most Influential and Powerful Women in Social Media as #23. Jessica
enjoys the best of both worlds, motherhood and career, at home in the DC Metro area with her husband and young son.
Don't forget to check out her blog post about decorating her home with Uppercase Living! - http://jessicaknows.com/2009/03/uppercase-living-helped-me-fake-ups...