Learning my ABC's all over again

What kind of mad person moves to a foreign country without knowing the native language? Me. That's who. Plus I think many expatriates do it…well, that's what I tell myself anyway.
I did know some Croatian before moving here. Enough to know if the people in the room are speaking about me – and enough to head to the shops on my own & navigate ordering coffee or paying for things at the supermarket. I can also sit at a table, and be sure of the subject of the conversation, and a little of what is being said. But nowhere near enough to know the full story and most of all I have zero clues how to put sentences together to participate in those conversations.
You can read here, why an Aussie girl even lives in Croatia. We moved to Privlaka, Croatia in May 2013, to build a house and make Croatia home
Another key reason why I need to learn Croatian, is that my husband is abroad for weeks at a time on business. Which, trust me is not ideal, but how else can we afford our Croatian dream house?
So, with that being said – what is a girl in Croatia to do if she does not speak the language? She must learn it, & F.A.S.T!
I had planned on looking at a language school after summer, BUT there is so much pressure for me to learn the language from so many well-meaning family members here. So unprepared and in a panic, I started looking at what I could do.
After chatting to some Expats in an online forum, I remembered that last year I had found a company based in Zagreb, who did Skype lessons. I had got prices and somehow had forgotten about it with all of the other things going on. You know, like that baby I had, moving house cause the roof fell in, packing and moving abroad. Just a couple of distractions. Off I went, digging through my notes to find the details.
Then I got thinking, how do I manage to find a babysitter without stretching the friendships with family members or daycare? As a Wife & Mama of a Fly-in-fly-out worker (FIFO), you have the luxuries that the pay packet provides, but you end up having to make decisions like a single Mother would. I have to think & plan on doing things alone and without the support of a Husband who comes home at the end of each day. Then it dawned on me, Skype lessons mean unlike attending a traditional form of school, I don't need to leave the house. I was excited, it sounded perfect.
Details found, I reached out to Mateja the owner of the company, and she offered me a complimentary first lesson of 90 mins, just to make sure I could follow along via Skype. I was worried about how that would work and was glad for the obligation free class. She offered me an opening the following week, and it was as easy as that.
The night before my first lesson, I was sick in my tummy. I could not sleep. I was so nervous and worried about what was to come. Learning a new language is such a huge mountain to climb, and I am so worried that I will let everyone down and not be able to learn a thing.
I finally managed some sleep, awoke and drank many cups of coffee. My Mother-in-Law who is visiting from Australia took Vladimir to the beach and left me to my class. Mateja was so sweet and welcoming and I instantly felt comfortable. For me that was huge, because I tend to close off and or get defensive in those trying situations. The 90 min class zoomed by, and I felt so relaxed, I surprised myself. Best of all, I actually learned something!
What did I learn in 90 mins? 
I learned about the Croatian alphabet. There are 30 letters – I had no idea. Including 8 letters, which we don't have in the English language, and they don't have 4 letters that we do have. I was also shocked to learn that even though, the other letters look the same, they are all pronounced differently. It was kind of like being back in Kindergarten learning an entire new alphabet. Just without that cutsie A-B-C song to go along with it.
ABC's – done. Now to keep practicing them.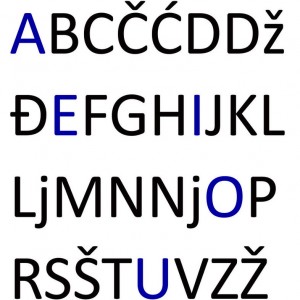 Then, it was onto the basic greetings. Fortunately I knew all of those, so that was a breeze and I felt like I had a chance to be able to learn the language.

I enjoyed my class so much, that I booked in two per week before I had the chance to change my mind. I hope to be able to do more if I can make some arrangements for Vladimir to be cared for more regularly. If you're interested in learning Croatian you can contact Mateja here.
Do you know any of the greetings?
Take a guess in the comments section below, and we can learn together.
Kako ste?
Dobar Dan
Dobro Jutro
Laku Noč