Please be sure to click HERE for more fun, learning activities!
http://www.mamasblissfulbites.com/2013/09/10/preschool-art-learning...
This week, we are working on the world of C O L O R S and all their beauty. This exercise was to help them discover how to create new colors by mixing the original colors.
Supplies:
Large piece of paper
Finger paints – we used three
Pen/marker/crayons to draw out the color chart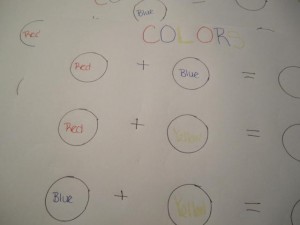 Directions:
On a large piece of paper draw 9 circles.
Write (with that color) the word chosen for each circle. For example: The word RED is written in the color RED. This helps teach the kids how to spell and recognize the word with the color.