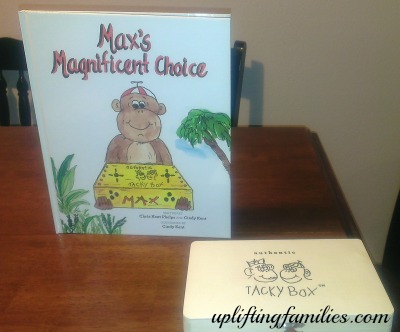 Have you ever slipped and said a tacky word in front of your child?  I know that I am guilty of this of accidentally saying something I will regret later or said something that wasn't appropriate for my children to hear.  I have always tried to be aware and watch what I say and do in front of them.  I want to make sure that my kids aren't picking up bad habits.  Believe it or not your kids are listening and soaking in everything that you say around them.  In fact, they might not repeat it right away but you also should be very careful about the things that you allow your children to wa.... If you listen carefully, you will quickly realize that there are tacky words on television, even during prime time, on the radio, and out in public.
If your child is already repeating some of the tacky words that they have heard from you, on television, the radio, or from their friends at school, it's time to find a solution to the problem before it gets out of control.  The Tacky Box can help you take control of your child's potty mouth and help them realize that some of the things they say can hurt other people's feelings.  In fact, the Tacky Box will help prevent embarrassing moments in public.  If you have tried other behavior modification methods and have failed, you should try the Tacky Box.
I have enjoyed having the Tacky Box in my house. I have been asked if this product would work for teenagers and my answer is YES! Of course, they might think it is a dumb idea but I asked my teens (ages 13 and 17) to help me with this review. After they placed their words in the Tacky Box, I have had them tell me that I said a Tacky Word and they are more attentive to the words that they are choosing to use. For more information about The Tacky Box click here.