This is a Sponsored post written by me on behalf of
FRESCHETTA®
for
SocialSpark
. All opinions are 100% mine.
MY REVIEW:
FRESCHETTA sent me a coupon to purchase a pizza for this review. You would think this would be an easy task, but it was difficult to choose just one pizza to buy as there are eight distinctive flavor varieties of FRESCHETTA® Simply Inspired pizzas to choose from. They have a Harvest Supreme, Classic Bruschetta, Hawaiian Style, Chicken Bianco, Farmers Market Veggie, Rustic Pepperoni Pomodoro, Southern BBQ Recipe Chicken, and Tuscan Farmhouse. I had to go with the Farmers Market Veggie.
 The ingredients are; marinated and roasted portabella mushrooms, roasted red onion and zucchini, rough-cut tomatoes that come together with mozzarella and a red sauce with basil for a flavor fresh from the market.
 The FRESH-TASTE SEAL packaging locks in the vibrant flavors, while using 30% less packaging material. I do have to say that it was nice not to have such a huge box in my recycle bin on garbage day. I really dislike big pizza boxes as I think they are a huge waste.
I am not a huge pizza fan so I was skeptical but was excited they had a thin crust option so it was not so heavy and greasy. The vegetables were so god and the seasonings they put on them were very tasty too. I also loved that there was just enough cheese on it and not so much that's all the pizza tasted like greasy cheese. I dislike pizzas that are over-loaded with a greasy cheese taste and this had so many great flavors on it, it was very satisfying.
This is what it looks like when it is cooked.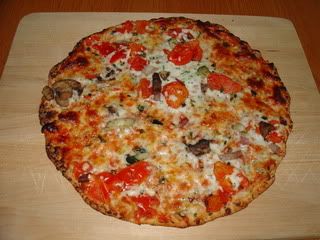 Now you are probably wondering, why would Tawna, promote a pizza, seeing that she is on a weight loss journey. Well the simple fact is that we cannot cut everything out of our diet 100% of the time and the fact of the matter is that we need to treat ourselves every now and then to some foods that we may not want to eat every day.  The calories, when compared to some other well know pizza companies (not going to put the companies names here, but I did do some research on some well-known pizza companies for comparison) and FRESCHETTA Simply Inspired Farmers market Veggie has less calories plus the vegetables are also healthier then some other frozen pizzas. Therefore, when I decide to have a "cheat day" then this pizza does not make me feel too bad.
GIVEAWAY TIME!