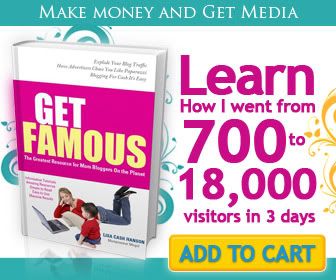 Lisa is the author of Get Famous The Most Amazing Mom Blogger's Resource On The Planet and has been featured on Yahoo! with over 40 million viewers and is a Circle of Moms Top 25 Mom Tech Blog 2012.
She has appeared on numerous guest posts all across the internet.
Here are a few

Firepole Marketing With Danny Iny
Featured In Laura Roder: 8 Steps To Overcoming Criticism
Some of her clients have included Empire Avenue, Chuck Schwab and others.
Lisa is interested in partnerships or sponsorships that fit with her brand. If you have a product or service and are interested in partnering with Mompreneur Mogul send an inquiry to lisa@mompreneurmogul.com.
Featured On Yahoo! Over 40 Million Viewers
Click HERE for the full story.
Circle of Moms Top 25 Mom Tech Blog