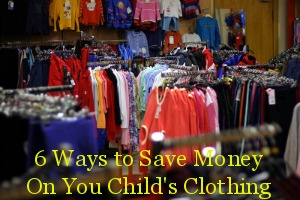 Children's clothing can be rather expensive especially if you are shopping in boutiques or buying brand name clothing. I wanted to share with you some tips and suggestions so that you can learn how to save money on your children's clothing. If you are currently pregnant, I highly suggest that you read this post and don't go too crazy buying to many outfits for your child. They will grow out of them rather quickly and every few weeks it will seem like you are swapping out your baby's clothes for a bigger size.  When I was pregnant with my oldest son, I didn't have any baby clothes for him and I used a combination of these tips to find him enough clothes to wear.
Don't fall into the trap that your kids have to have expenive name brand clothing on to make them look good.I was thankful that my grandmother taught me how to be frugal at a young age, we used to go garage selling together. We would pick up some great deals and new things for a fraction of the price, including, clothing. She also refused to pay top dollar for clothes and would scour the clearance racks looking for baragins. Of course, as a kid some of the things that she picked out weren't always things I liked. Looking back, I should have been a bit more thankful for the things I was given but that is hindsight now that I am a mom. 
Today, I wanted to share with you some 6 ways to save money on clothing for your children.