This week has flown by and I can't believe that tomorrow is Friday.  I started participating in #ASKAWAYFriday and I have enjoyed it. I love connecting with other bloggers and learning more about them. I wanted to participate in this blog hop because I don't always share a ton of information about myself.  I thought #ASKAWAYFriday was the perfect way for everyone to get to know me on a personal basis. For those who don't know what #ASKAWAYFriday is, you exchange a set of 10 questions for another blogger to answer. Below are 10 questions that Sarah asked me and I hope that you enjoy my answers.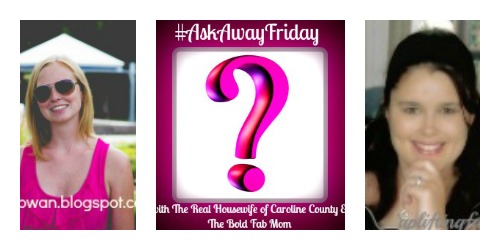 This week I traded answers with Sarah from Small Town Iowa Family.  She is married and has two beautiful girls.  She takes awesome photos (I need her skills and a better camera) of her family and all of their adventures.
In my post you will find out how I fit blogging into my daily schedule, how I met my husband, my favorite subject in school, my own childhood memories about growing up, and much more.  If you are interested in participating in #Askawayfriday, please send me a message.  This is an awesome blog hop.  It is fun and it is a great way to meet new bloggers.  Visit Uplifting Families to see my full answers to the questions that Sarah asked me: #ASKAWAYFriday With Sarah at The Small Town Iowa Family.