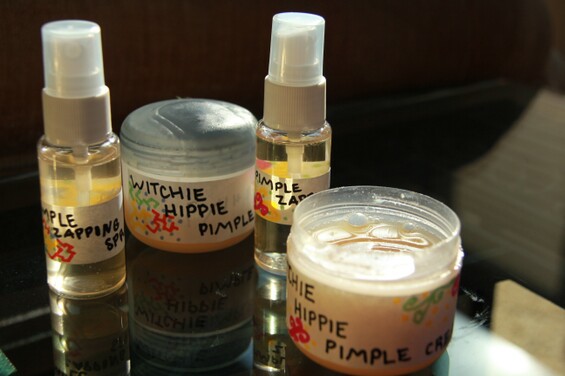 Homeschool in my house revolves around two pimply faced 'tweens. Honestly, they aren't that pimply yet, but every day I can feel it coming. It's like a deep, gutteral rumbling below the surface and I am bracing myself for the inevitable eruption.

With increased hormonal secretions, hygiene has become of paramount importance. I find myself saying things like "Drinking lots of water will flush out all those toxins," and "A shower a day keeps the B.O. away." Honestly, I sound like my mother, although, I think she was nicer.

Seventh grade is hard work. This year, I have been more like the "Jillian Michaels" than mom, and school could be confused with boot camp. We rarely finish our work in less than 6 hours. By the end of the week, our brains are fried. We need a break. Therefore, I have introduced "Fun Fridays". We still cover our core subjects. We just have more fun doing it.

I am forever indebted to Leslie of www.crunchybetty.com for a never ending source of wholesome food on your face fun. I just love the fact that she has dedicated an entire blog to showcasing ways to put food on your face, your hair, your teeth, and your body all in the name of cleaner, crunchier living. And gosh darnit, I have her to thank for teaching my kids about how to take care of their budding pubescent bodies.

Think of it as hands on science meets hippie commune crunchyness. And her methods "all natural" and a heck of a lot cheaper than supplying kids with a bunch of expensive, toxic chemicals.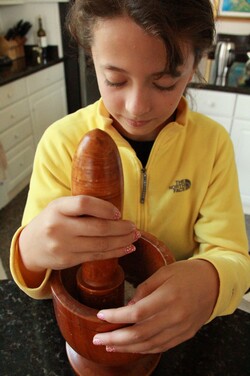 Today, we made an Acne-Busting Aspirin-Honey Mask and Toner. We started with the Acne mask which doubles as an exfoliant. It is made from Aspirin, apple cider vinegar and honey. This is amazingly similar to the concoction that my mom and dad used to give me when I was sick. They would crush an aspirin between two spoons, mix it with honey and shove it down my throat. Well, they didn't really shove, but it felt like shoving when I was 8, beligerant and under the weather.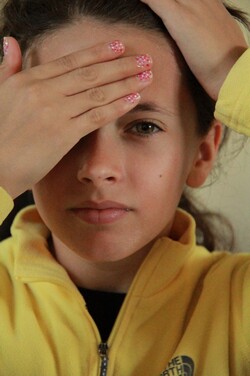 The only thing different about this is that you add apple cider vinegar and rub it all over your face, and leave it to "set" for 15 minutes while the salicylic acid works wonders on the zits. Clearasil Extra Strength and Proactiv' got nothin' on this one.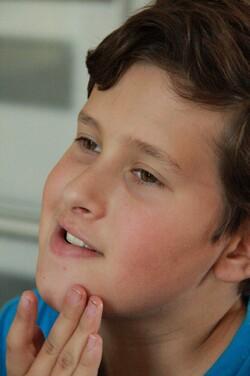 It was really easy to make, but you can see that my kiddos were a bit tentative about rubbing it on their faces. It took a while to get my son to try it, but even boys should be taught to take care of their skin. If you do try this, tell them not to get it too close to their eyes. The vinegar does have a little bit of a "kick".

I had to test it out too and I have to say, I think the aspirin might stimulate the cells close to the skin's surface. It really worked great. It had just the right amount of drying power to take the edge off the oil in my T-Zone. And when I did happen to get a little in my mouth, it brought back happy memories of my childhood.

Seriously though. Think about how many nasty chemicals get into our bodies through our nose and mouth when we shower or wash our faces. I would much rather have my kids injest this in small quantities than toxic chemicals with names I cannot pronounce.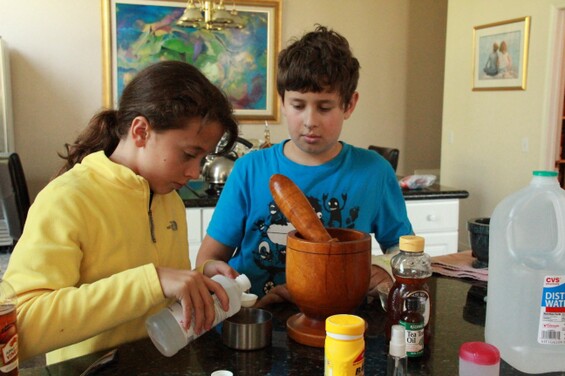 Next we moved on to the Acne Toner. It took a while to explain why they need a toner in the first place, but when they felt its refreshing effects, they "got it". The toner was super easy to make and included witch hazel, honey, distilled water and half and half lavender essential oil and tea tree oil.

My son commented that he didn't know whether he felt like a witch or a hippie while making these concoctions, so they came up with their own name for their home made beauty products. It's the Witchie Hippie brand and I plan on trademarking that so don't be getting any ideas.

My daughter was in a generous, and cooperative mood, so she made the labels for hers and his. Putting food on your face will do that to you. You might find yourself sharing the love.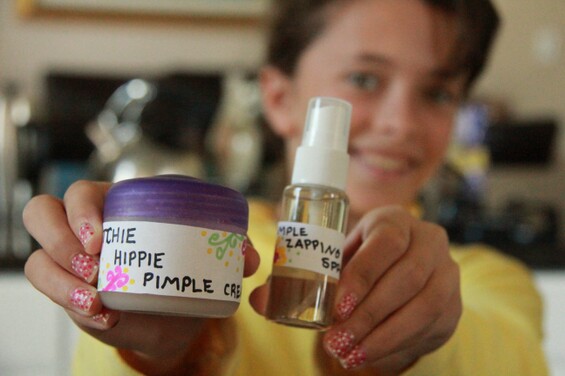 Thanks Leslie for helping me take care of science and lifeskills in one fun lesson.
Food on your face is definitely fabulous! We'll all be more beautiful because of your convictions to crunchyness!
You can find the recipes and more details about why they work at this link:
http://crunchybetty.com/?p=1160