After having a baby, you will want to get out of the house and try to regain the shape you were in before the pregnancy.  Taking a walk is a great way to restore your physical fitness, connect with nature, boost your mood and keep your baby healthy. 
How You Can Start Walking With Your Baby after Pregnancy?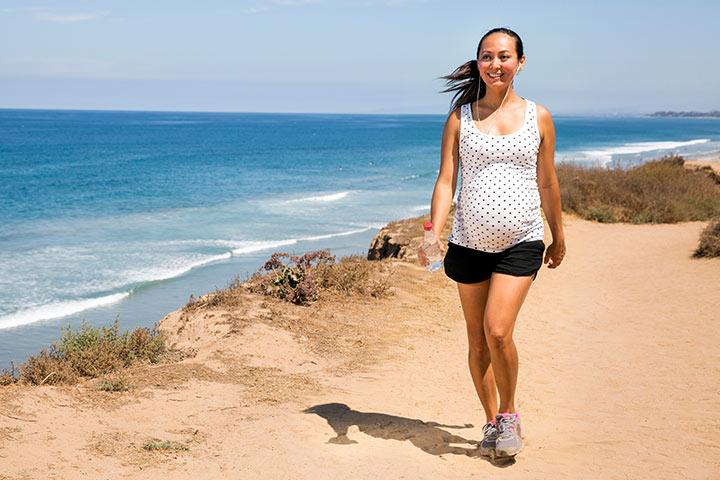 Strollers for Walking With Your Baby
When you plan your baby shower wish list, you should include a walking or jogging stroller.  To get back to your previous fitness level you will need to exercise regularly after the baby arrives.  A back carrier is another option, but you might find that your baby outgrows your ability to comfortably carry them.  There are certain features that you should look for in a stroller according to the American College of Sports Medicine.
The first is a deep seat with a seat belt.  You should also look for a locking brake which can be used when you place your baby in or take your baby out of the stroller.  A safety wrist strap is also recommended as this stop the stroller from rolling away from you.  A sunshade is recommended because it protects your baby from the sun and helps prevent sunburn.
Paths to Avoid When Walking With A Stroller
You need to avoid any paths that have gravel or that are too rough.  The vibrations from these paths will not be good for your baby or for your wrists, shoulders, and arm.  It is best that you stick to the asphalt and sidewalks.
Supplies
It does take planning to ensure that you have everything you will need with you when you go walking.  You need to ensure that you take water for yourself and a bottle for the baby.  You should also take a mini diaper kit for cleanups and changes.  When your baby becomes older, you should pack snacks for them along with their favorite soft toy.
Get Out Into Nature
You should look for paved paths that lead you through a park or another natural area where you can connect with some greenery. There are studies which show that walking in a natural setting will reduce stress.  These studies also find that these walks are better for your overall mood.
How Long Should You Walk For?
In order to get your recommended daily physical activity, you will need to briskly walk for 30 minutes each day.  You do not have to do this all at once and can break it up into different sessions of 10 or more minutes.  If you want to lose weight, you will need to look at walking for 30 to 60 minutes continuously most days of the week.  This might be more than you are able to do and in these cases, you should build up to it by adding 5 minutes to your walking time each week.
Your Shoes
There are some permanent changes to your feet which may be a result of your pregnancy.  This is why you should take a trip to the shoe store and get fitted for athletic shoes.  Having good shoes that fit you correctly will ensure that you have a good walk. Discuss any issues you have - you may need shoes for plantar fasciitis if you have something like that.
Your Heart Rate
When you are walking, you can target the heart rate that is ideal for either conditioning or weight loss.  When you push a stroller, you will raise your heart rate at a lower speed.  However, if you are already in good fitness, you could have a harder time achieving the high heart rate when walking. 
Your Walking Posture
Jogging strollers are known to create poor posture habits.  During your pregnancy, your centre of gravity will shift and you need to regain your correct posture.  While walking, you need to concentrate on your walking posture and avoid leaning too far forward or backwards. 
Get Your Baby Started Correctly
When you walk with your baby, you are going to be instilling regular exercise habits from an early age.  This is a gift that you need to give to your child and you could even look at entering fun runs and charity walks that allow strollers.  Your child could have walking medals before they are able to walk on their own and you can point to that in the years when your child does not want to get off the sofa. 
Parents Walking Together
When you walk with your baby and partner, you will get more time to connect and build your family relationships.  You will also get the chance to unwind from the day.  This is one of the most natural ways to build your relationship and spend time together. 
Walking Play Dates
There are many new mothers that need to connect with other new mothers so your child has someone to play with later on.  Instead of meeting at each others' homes, you should get together to walk.  This can be something as simple as walking around the block or through the mall.