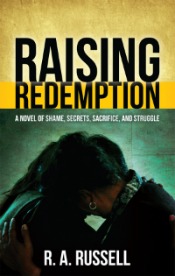 When I was asked to review Raising Redemption, I jumped at the chance because it sounds like a great read and it had an excellent story line based on the excerpt from the back of the book.  I realize that life is full of twists and turns and that everything in life doesn't always go according to the way we plan things.  As a parent often times, we have high expectations of our children and when they don't live up to our expectations we are often disappointed with their choices.
Disclosure:  I received this book in exchange for an review.  All opinions of this book are 100% my own and I would never recommend a product that I don't like.  This post contains affiliate links.
Alicia found herself pregnant at the age of 17 and after her parents found out about her pregnancy, she did the unthinkable.  Instead, of talking about her problem with her parents she decided to run away from home.  She hopped on a bus and left town.  After she arrived at her final destination, she found a place to stay of course it wasn't the most ideal situation but it worked for her at the time.  Alicia didn't have any money or a place for the baby to stay, so she ended up giving up her baby for adoption (which is a self-less act and I admired her for making the difficult choice for her baby).
Continue Reading Raising Redemption book review at Uplifting Families.