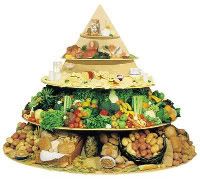 Image from photobucket
Well I know for a fact that I cannot avoid all which is good So as far as the eating plan goes this is what I will do.
DIET is not a bad word. I am not "going" on a diet, but rather "modifying" my diet. I can eat healthy and still feel satisfied.
Specifics:
There are specific guidelines nutritionists say to follow when eating